Only style car staying mat speciality store ! Mat thickness 10 cm therefore you would not feel uneveness of seat! Sale commemoration and shcoking prizes !
Sleeping comfort OK.Straoge OK.Thickness OK.Easy to use OK.

Q.Things to expect from car night halt mat ?

A.Sleep relaxely
Would want to sleep relaxly and spent tomorrow morning happy! With conventional 5 cm mat ( you get body pain) (Could not sleep properly so next morning is not happy) kind of voice you hear...
A.Cargo such as a tool etc would want to make compact .
If there are huge cargo inside car, you cannot move easily.. would like to make cargo as compact as possible.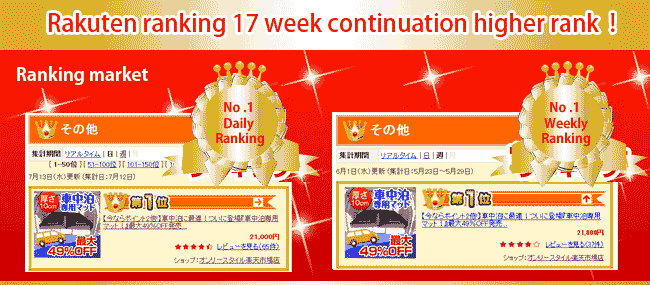 Only style car night halt mat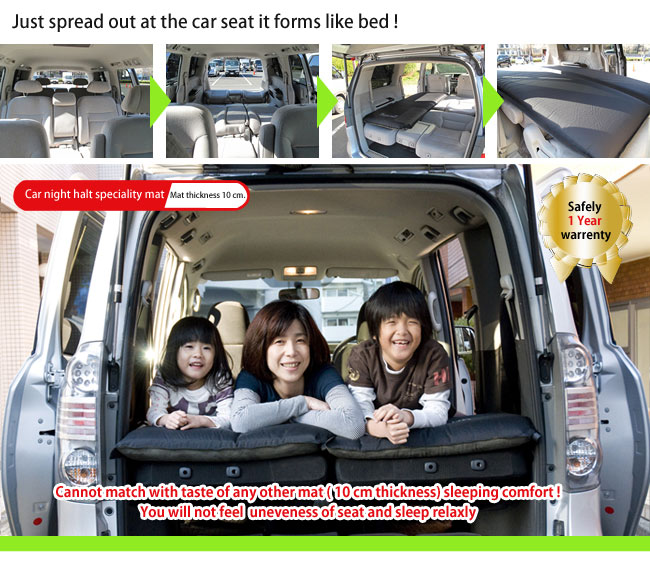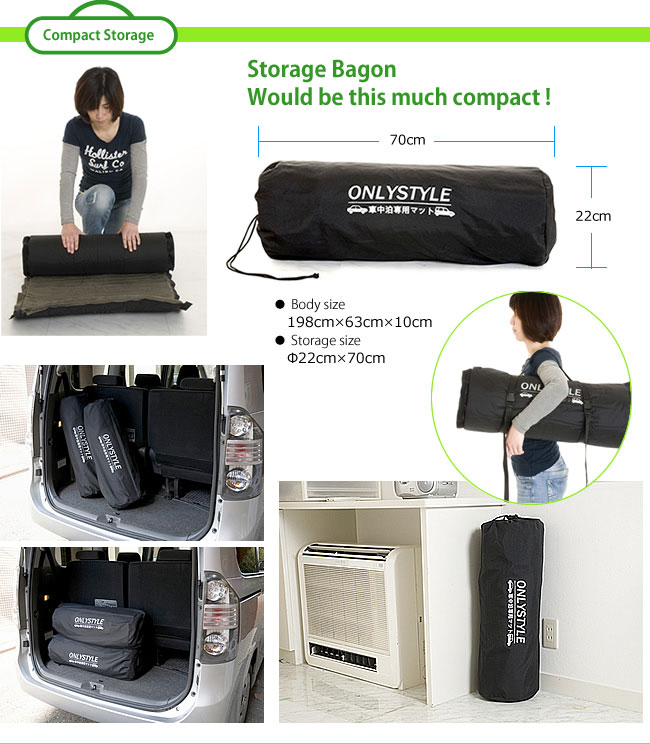 Create worderful memories without spending money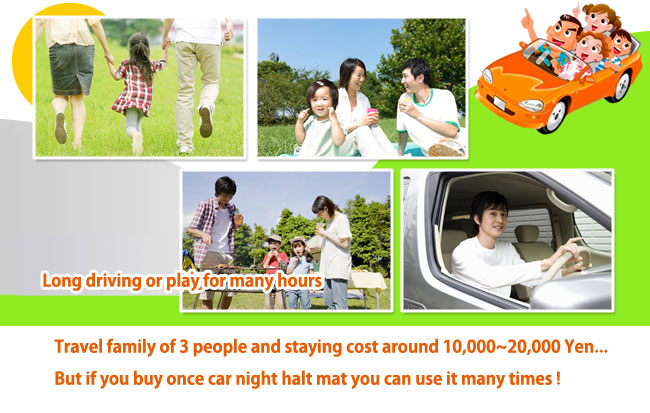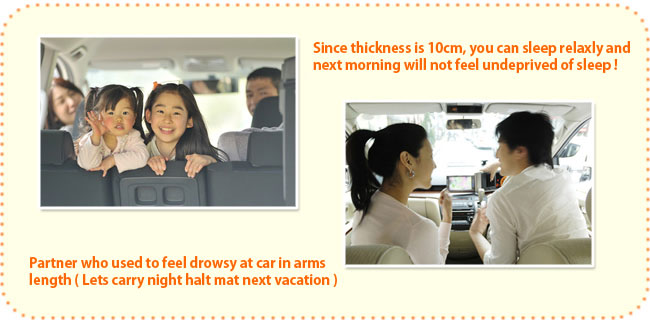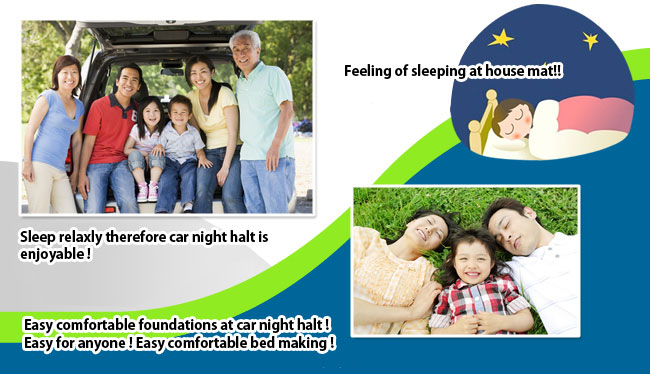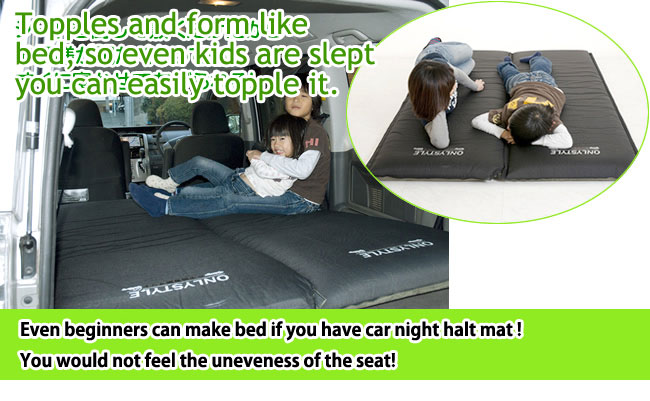 It is not only feeling in bed car stay speciality mat
At only style know all about car stay ( Car stay speciality store), car stay handiness, comfort nature and economical !From beginners to veteran for everyone !
Here car stay mat differs ! 5 Points !
Point 1

Thickness choice 10cm. With surprising thickness, you wouuld not feel uneveness of seat!

Pont 2

Storage bag . although thickness is not less than 10cm but it folds like this much compact ! Would not take even half space of comman sleeping bag. many loads can be sracked.
Point 3

Very simple preparation . Open the valve air inguess automatically, close the valve and its ready ! No need to inflate by mouth.Air pressure (hardness) can be adjusted by blowing by breath.

Point 4

Attachment of mats is also possible. 。 Car night halt is attached with magic stripe on both end so you can join both part! It will not be separated while sleeping.
Point 5

Double-sided proper use。 In weather with high temperature(Oxford check) is performed on the mat , to check the feeling of cool points! While in cold temperature (Micro Suede surface) warm point feeling is performed!
oxford check surface, micro suede surface
10 cm of thickness therefore you would not feel the uneveness of seat
With only style car night halt mat of 10 cm of thickness you would not feel the uneveness of seat and your holiday would possibly be enjoyable.


Usage is so easy!
Directions for use
Open the air valve, air will be automatically inguess into mat.
Close the air valve after suction of air has stopped.
Process complete.
※Since internal elasticity form will be shrunk when I use it after keeping the mat folded for a long period of time, suction of air may take time./p>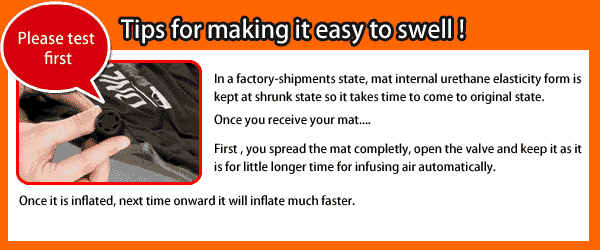 Storage method
Air valve is opened and weight is applied and multiplied from end
Close the air valve once air is taken out.
Storage completion
Handling notes
・Please do not put more than necessary air in matt. It may cause air burst or air leak.
・When dirt adheres, please wipe off unclean portion lightly.
・If it is sharp and a mat is damaged, it will become a cause of an air leak.
・Please do not bring close to fire by any means.
・Please do not use it other than the prescribed methods.
・Since internal elasticity form will be shrunk when you use it after keeping the mat folded for a long period of time, suction of air may take time.


Example of use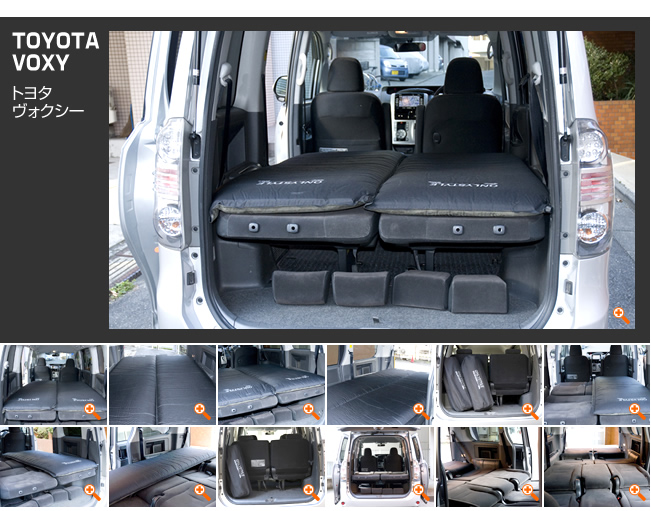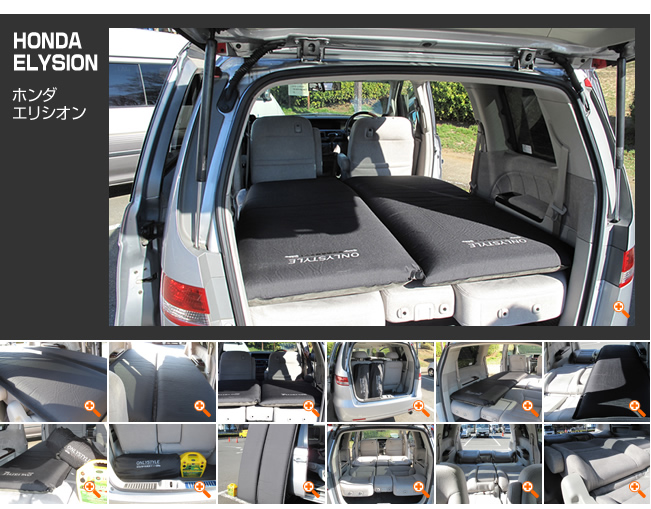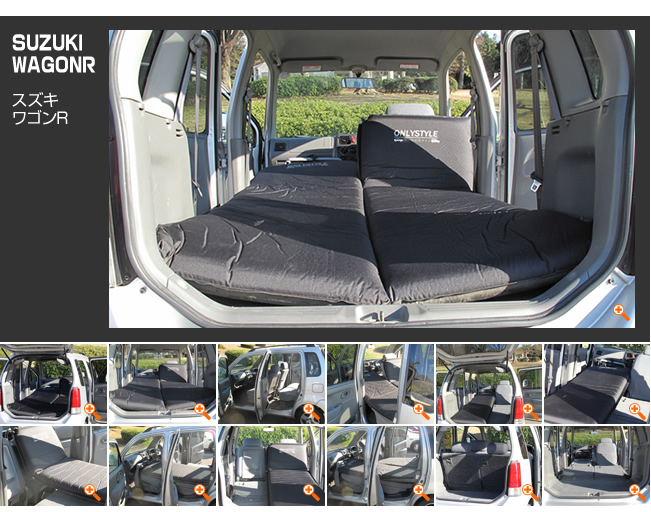 Color.material quality . size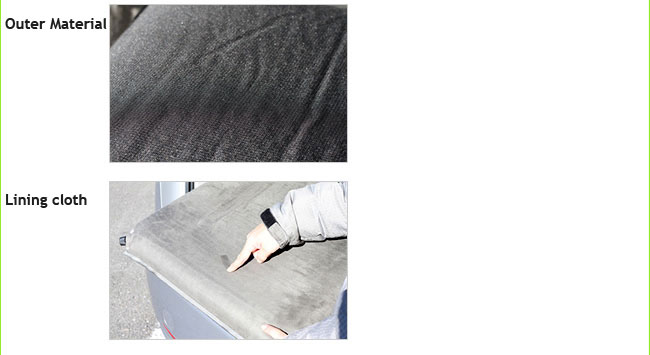 Color is black and 150D Hocq Ford checks cloth .Dirt cannot adhare eailsy, feeling of smothness and if any drink spill off it can easily be wipe off.
Color is gray and cloth is micro suede.It cannot just used for sleeping in the car, but since it is a napped material with a sufficient climax feeling, you can use it as the surface.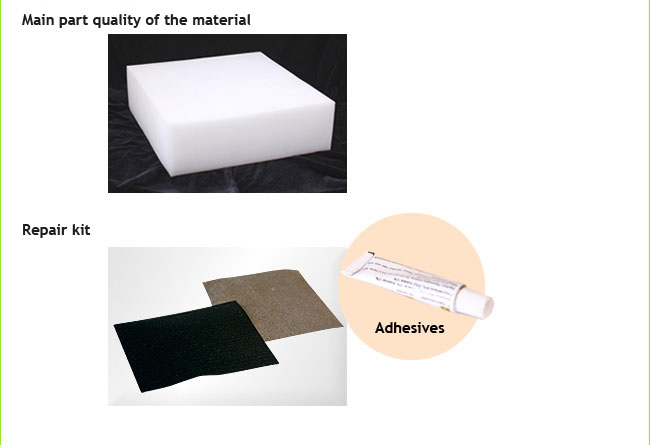 The main part quality of the material / repair kit high-density elasticity form is used.
The convenient repair kit for repair. A double-sided material and adhesives are attached by a set.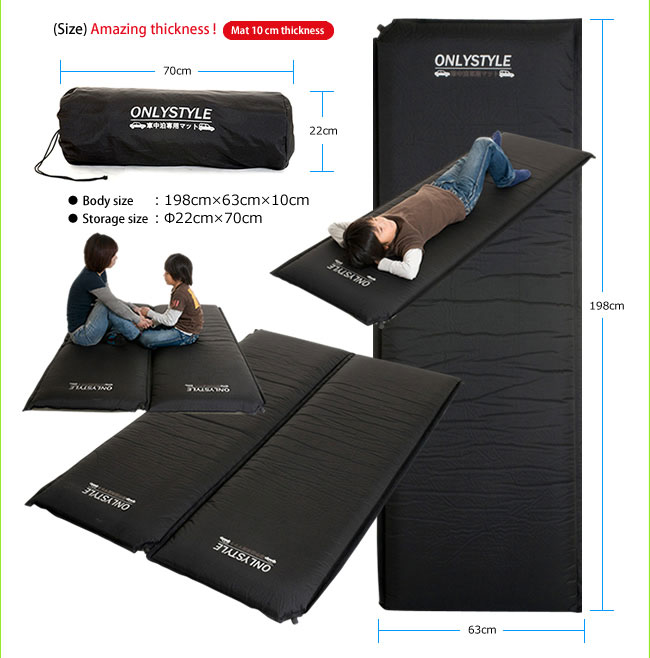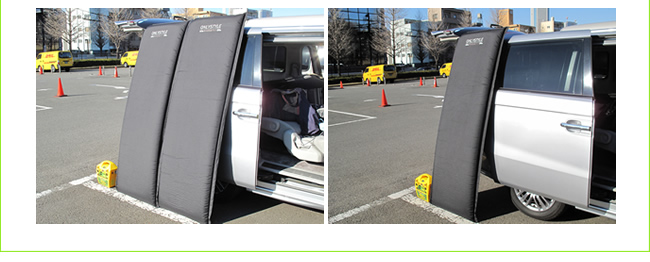 Car night halt mat speciality . specification
●Quality of the material: Front cloth / 150D Oxford check, lining cloth / micro suede cloth,


main part /high-density elasticity form

●set content: main part of a mat, a storage case, a repair kit.
●Body size:198cm×63cm×10cm
●Body size:Φ22cm×70cm
●Weight:3.8kg  ●Color:table/black, back/dark grey   ●Manufacture country: China
●elling agency: Car night halt speciality store Only Style


2-33-1, Yoyogi, Shibuya-ku, Tokyo TEL:0120-511-550


Even if you replaces a car, it can be used long!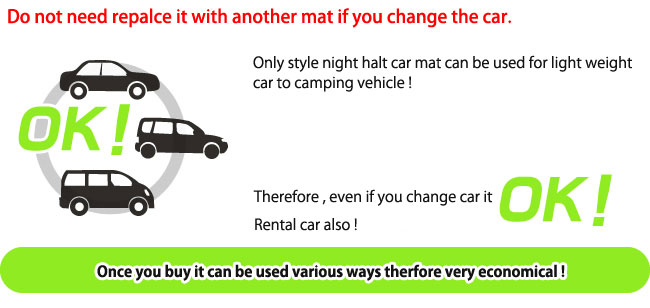 Reference example: When a narrow space is covered with the mat
If you reduce slight air pressure of the mat and it bends lightly at the end heaped up, it is possible to cover confined areas according to a space.
※ Please do not bend by force, while the air pressure in a mat has been high .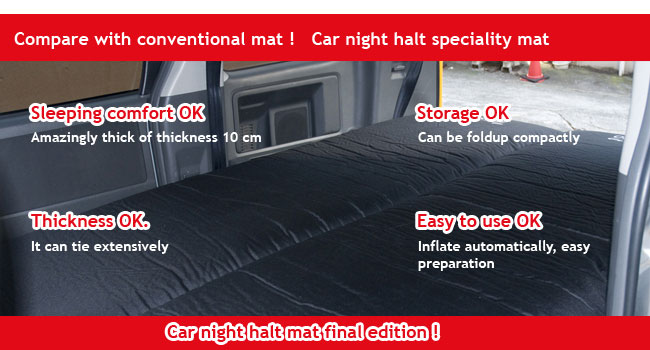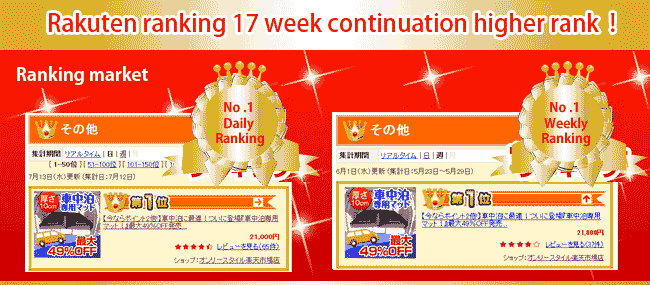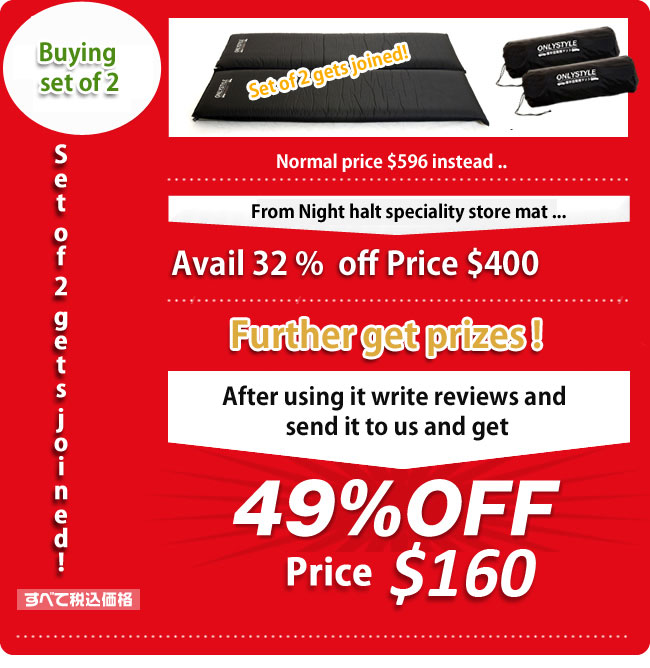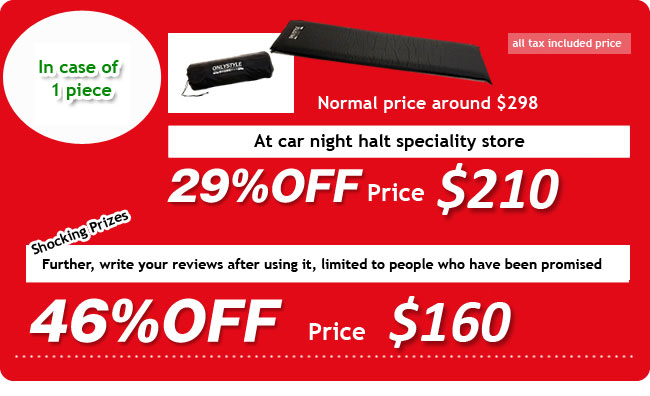 Reviews after using it .
When reviews are contributed after usecontents in alignment with the above-mentioneditem are indicated. info@onlystyle.jp までPlease send your reviews through e mail.
※We publish your reviews on our home page once we received from you so please visit our web site and check it
▼▼▼Please put into a cart after choosing the contents of the order▼▼▼
Buy set of 2 Item ( Write reviews after use) 49% off
Buy set of 2 item ( Do not write reviews after use) 32% off
---



very popular (Car stay mat) (Pillow) new development!
Maximum 50% off ( Pillow for car night halt mat) sales commomoration, special price
Vehicle pillow night only


Our normal price:$35(including taxes)~

Selling price:$19.8(including taxes)

Write reviews buy at -> $19.8
---