Sine wave DC-AC inverter manufactured by Mitsubishi Electric SK1500 (input DC12V)
Sine wave DC-AC inverter manufactured by Mitsubishi Electric SK1500 is ideal for power-hungry appliances such as microwaves. In addition to the car night halt it is popular with those who use power tools.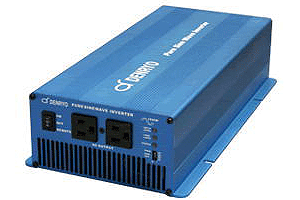 Price:$1381
Price:$798(includig Prices)
| | |
| --- | --- |
| Product name | Sine wave DC-AC inverter SK1500-112 |
| Rated AC output | 1500W |
| Power Surge | 3000W |
| DC Input Rated voltage range | 12V Specification(10.5~15V) |
| Rated voltage output | AC100/110/120V±3% |
| Output waveform | Sine wave (sine wave) THD <3% |
| Temperature range | 0℃~40℃ |
| Conversion efficiency | 0.2A |
| Election of conversion efficiency (maximum) | 12V Specification(88%) |
| No-load current | 12V Specification(1.43A) |
| Protection circuit | Suites output, high power-pressure, low-pressure, over temperature, overload |
| Body Dimensions (Cong × horizontal) | 415mm×191mm |
| Body Dimensions | 88mm |
| Weight | 4.8kg |
| Overall Dimensions Chart | Click here for Dimensions |

Mitsubishi Electric SK1500 (only 12V) reliable inverter is offered at an overly profitable price also in a sine wave DC-AC inverter.
Efficient
SK series DC-AC inverter is as efficient as 88% ~ 95%.
Heat dissipation
If the load more than fixed is applied in the surroundings, a rear fan will radiate heat. This prevents the fault temperature in a case.。
LED display
DC-AC inverter SK series, tells the error in the blink of the LED on the front panel. SK series shows the input voltage and output voltage range of color change of the LED.
Protection circuit
Output short circuit protection circuit is activated at high temperatures over low voltage input voltage input overload protection circuit.
Insulation design
SK Series DC-AC inverter, are insulated from the primary side and secondary side.
High surge power
SK Series DC-AC inverter power can be taken two times the rated power surge instantly in the design of the handlebars. Also very useful for inductive loads such as motors started by this current is large.
Global Design
SK Series DC-AC inverter, you can change the DIP switch output voltage and output frequency.
The output voltage 100/110/120V, the frequency is 50/60Hz. (You can also offer specification 220/230/240V. For more information please contact us.)
Power Saver mode
DC-AC inverter SK Series is a high efficiency 88% to 95%。
Efficient
SK Series is no load to reduce power consumption, power saving modes. Features power saving mode is detected and automatically launch the configured load capacity.