Engel refrigerator Portable S series

 MR040F-D1-GL (38Ltype)

40 Liter specification which an orthodox camper also satisfies.It corresponds to AC/DC car power supply.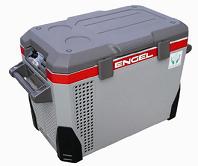 Selling Price:$943(including taxes)
Dimensions
Width:636
Depth:396
Hight:471
Capacity
38 Liter
Power Supply
AC100V.DC12V/24 comman
weight
22kg
compressor powe r
swing motor
(Refrigerant gas compression technology
)
Temperature control equipment
Dial variable type automatic temperature adjustment
electricity consumption
126(kwh/年)
※Color, design and specification might change without a prior preliminary announcement. Please understand this.

40 Liter specification, also satisfy needs of orthodox camper.New design outdoor image.
Car life. out door life support.
Since MR040 F-D1-GL (38L type) corresponds to an AC/DC car power supply, it can be used also at home.
Engel Refrigerator 7 features
Power scheme produces the same powerful compressor for household refrigerators!
Convenient for the cold weather! internal temperature of 55 ℃ type also available! (HD-13GL)
Engel's own energy-saving designs reduce the burden on the battery!
Good seismic structure is also supported by vibration or tilt while driving!
Engel has any outstanding storage capacity!
It is a small bulge from the compact design, fits in the car clean!