A direction to be able to operate electric goods of high power consumption!
You will be able to operate high power consumption devices like a microwave oven, an electric pot or an air conditioner etc
The direction towards protecting important data of personal computer, to be able to operate in direction of uninterrupted electricity! Even if electricity is interrupted by power outage, automatically supply of electricity from battery!
| | |
| --- | --- |
| With attached backlight digital voltmeter,it is very convenient to know the status of battery! | |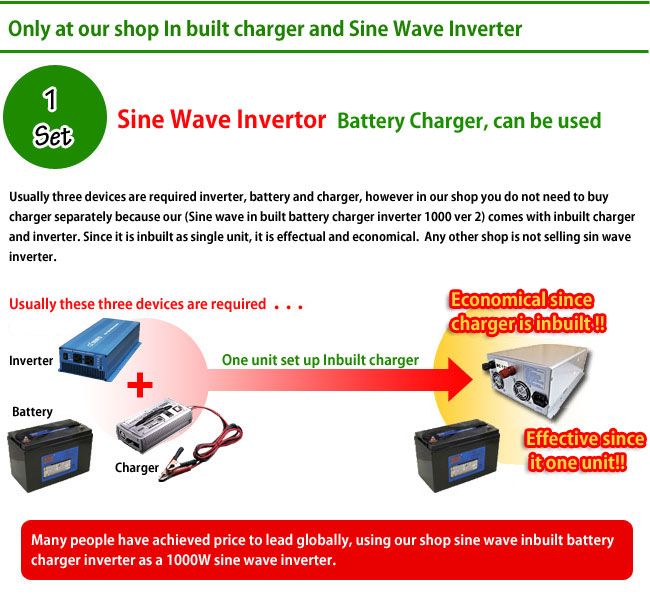 It is possible to connect solar power generation with lithium-ion battery system.
Accumulate electricity generation in the lithium-ion battery and save power! Save money!
>>Don`t you want to challenge the current topic of discussion the natural energy.
● Specifications
Rated output
1500W
Input Voltage (inverter)
DC12V
Input Voltage (charger, UPS))
AC100V
Input frequency
50/60Hz
Output voltage
AC100V
Output frequency
50Hz
No-load current
<12W
THD
<5%
Output waveform
Sine wave
Switching time
<10ms
Charging current
Max 8A
Protective function Surge protection
utput overload short circuit protection Input Overvoltage Undervoltage
Noise
<40dB
Storage environment temperature up
0~40℃/-15~+50℃
Humidity Storage / production
0~90%、without condensation
Sea level storage environment / production
0~3000m/0~15,000m
Body size
360x240x130mm
Weight Approximately
6kg
Product warranty
1 year warranty
Please note, color, design and specifications are subject to change without prior notice.
Have you seen UPS (uninterruptible power supply) with feature of inbuilt battery charger sine wave inverter? The functions incorporates a number of requirements from customers! I think our products satisfy all the needs!



★With a battery cable !

※Please note, color, design and specifications are subject to change without prior notice

Ideal battery system! FINALLY arrived, high spec model!
Built-in sine wave inverter charger UPS1500
[Sine wave 1500W! UPS Function (Uninterruptible power supply)!

Normal Price

$998 (including taxes)

~

Standard Price

$748

(including taxes)