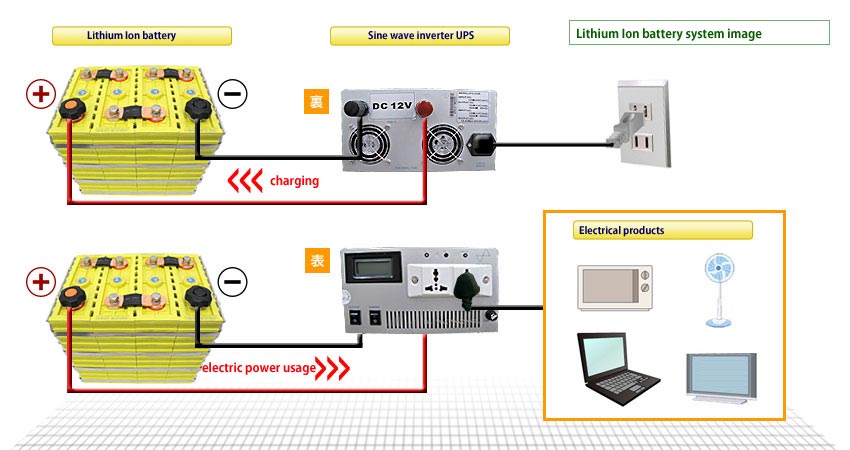 Very active in the disaster or power outage during an emergency for electricity storage! Storage battery system can be used very simply in household and
public company government offices.You can select from 480 Wh to high capacity 12000 Wh according to your requirement's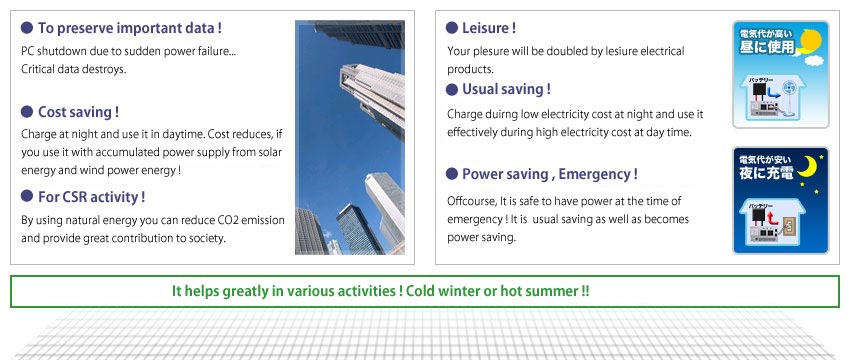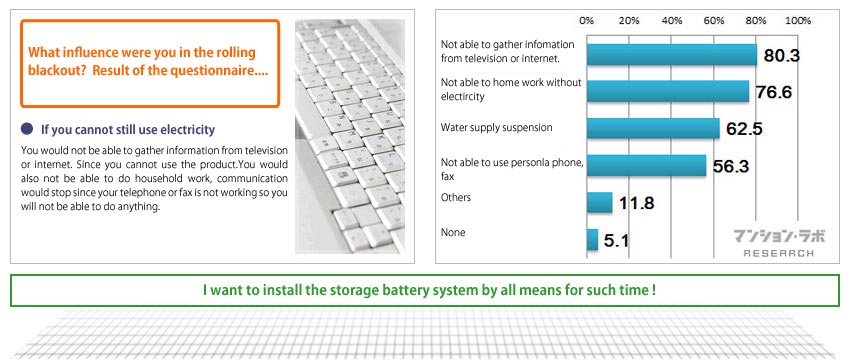 The lithium-ion batteries are widely used as a common battery for laptop, cell phones and portable game machines etc.
However, there is a large barrier in the price and large capacity lithium-ion batteries are difficult to obtain and even cost you several hundred million yen.


The conventional lead battery is very heavy - the weight of w lithium ion storage battery is the half of a conventional battery !

Also in the case of installation or movement,it becomes very easier than conventional battery. Purposes of sub-battery car, can improve fuel economy by reducing the weight!

Since size is very compact therefore easy to install even at narrow place ! Worth seeing !

●Uses in business machines ( computer, fax machine, printer, scanner etc)
●Electrical devices ( Refrigerator, game console, DVD, microwave, stereo, camera, electric fan, lamp etc) Battery for mobile phone, power saver, digital camera, video camera etc
●Battery for mobile phone, power saver, digital camera, video camera etc。

Store electricity during low cost at night and use it at
daytime during high electricity cost and save money!
With power saving also leads to solar power and wind
power.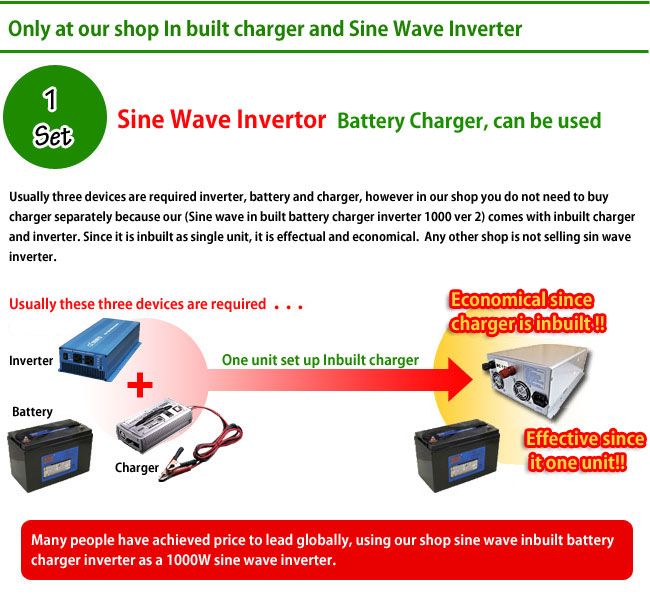 It is possible to extend solar power generation to lithium ion storage battery system. Generated electricity is accumulated in a lithium ion storage battery, and electricity is saved !Saving!
Isn't natural-power-sources power generation of subject challenge now.
No electricity can be provided with solar power generation.Please charge a storage battery with a charger periodically.

>>Flexible panel. charge controller details here !
=======Please choose commodity composition from the following.=======
※An exclusive charger is needed separately for lithium ion battery 3120 Wh(260A)~ 12000Wh (1000A) .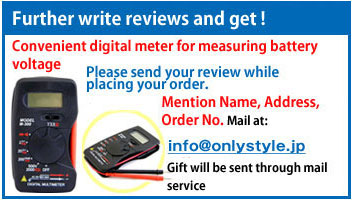 ★With a battery cable !

※Please note, color, design and specifications are subject to change without prior notice




Long life no 1 lithium ion battery & pure sine wave inbuilt charger inverter 1000W set
Sine wave inbuilt charger inverter 1000 ver2 + lithium ion battery set

Normal Price

$1,673 (including taxes)

~

Price

$1,290~

(

ncluding taxes

)

480Wh (40Ah) ⇒ $1,290
720Wh (60Ah) ⇒$1,660

1080Wh (90Ah) ⇒ $2,100

1200Wh (100Ah) ⇒ $2,280

1920Wh (160Ah) ⇒$3,160

2400Wh (200Ah) ⇒$3,830

3120Wh (260Ah) ⇒$4,690

3600Wh (300Ah) ⇒ $5,340


4800Wh (400Ah) ⇒ $6,900
8400Wh (700Ah) ⇒ $10,850
12000Wh (1000Ah) ⇒ $15,300