AC delco voyager battery Voyager M27MF(160RC)
For Electric Bass Fishing (trolling motor) as battery current, most popular models.
Rent a boat / aluminum boat with electric power only if the capacity of this size 160RC, such as aluminum boat / FRP bus and boat electric outboard motor used in combination, have the ability to respond to what purpose.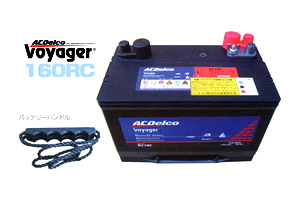 Special price of our shop:$214(including prices)
| | |
| --- | --- |
| Part No. | M27MF |
| Capacity | Capacity of 160 (RC) 105Ah quite |
| Size | Vertical 172x width 320x height 230(mm) |
| Weight | 24.3(kg) |
| Remarks | Handle with battery terminal stud size: 5 / 16 "NC (+, - co) size terminal post (+ side): 11/16" -3 / 4 "(tapered) terminal post size (- side): 5 / 8" -11/16 "(tapered), please use the charger charger genuine BASS CHARGER 10 |

| | | | | | | | |
| --- | --- | --- | --- | --- | --- | --- | --- |
| | When installing the product, you need a product or process to the mounting surface | | Please check the size and capacity required. | | During installation, it takes specialized knowledge. | | Comes with mounting accessories for your product. |
| | When mounting tool is required | | Due to the manufacturers, the price may fluctuate. | | The measurements on the size of the product, please do the mounting process. | | To be used when required for assembly. |

Difference between deep cycle battery and general battery
Typical battery is used, for example for automotive alternator (generator) while driving a car engine while being charged with has always been used in nearly close to full charge. But many of these batteries are discharged (discharge due to forgetting to turn off the lights and left with long-term self-discharge) If you've been, and will be greatly reduced storage capacity, charge the battery again. By contrast, "deep cycle" type batteries can be charged, called by using a dedicated charger to discharge even at very small decrease in storage capacity, you have a repeatable feature of this charge and discharge .
This feature requires that repeatedly charged and discharged electric (electric motor) and fish finder, bilge pump, and a very effective performance as a power source such as an electric winch. "AC Delco Voyager" has an outstanding track record and years of trust among the deep cycle battery, fishing, marine leisure, such as RV camping loved the world, are supported.


Maintenance-free (following: MF) structure
AC Delco Voyager" battery is a structural MF. A typical battery time to charge rehydration cap (vent plug) open, check the amount of fluid had to be to release the gas generated during charging and rehydration.
However, the structure of MF "AC Delco Voyager" battery is the need for such cumbersome at all. When the charger + charger only - only connected to each terminal is powered.

Looking like some of the typical structure of MF ... structural separation of the generated gas
● Special mechanism design is greatly reduced by reducing the consumption of liquid and liquefied gases generated during charging. Eliminates the need for rehydration
● The exhaust gas inside the row filter installed explosion-proof.Reduces the occurrence of explosive gases and odors while charging. Rehydration solution without the need to
● Dirt and terminal post on the battery itself can be reduced gases (terminal) corrosion, less dirt.

Calcium alloy battery which can reduce natural electric discharge
AC Delco Voyager" battery is a structural MF. A typical battery time to charge rehydration cap (vent plug) open, check the amount of fluid had to be to release the gas generated during charging and rehydration.
In addition, calcium alloy lead forging self-discharge (battery is discharged and even used) can be greatly reduced, if you have an effective performance as batteries for automobiles and boats less frequently used
IMPORTANT: before using the battery, may include the following measures to prevent trouble.
 1. Do not make deep discharge. (Ideal for use in the discharge rate within 50%)
 2. Use (discharge) will be charged immediately after.(※ prevent sulfation)
 3. Storage (long-term matter) can not be kept at full charge。
Customers can also choose to implement these things, you can reduce the battery problems. On the contrary, when I do not have these protected, even if it compares and is 1 or 2 use, it may be unable to restore normally. Please use battery correctly after understanding the above-mentioned thing.

 ※Sulfation: Phenomenon which the lead sulfate which occurs at the time of electric discharge crystallizes. If it is neglected, accumulation-of-electricity capability and a life will be decreased.

AC Delco Voyager battery is sealed type battery structure MF, the groove in the upper body for discharging the gas generated during charging slightly (both sides) located. Thus, the type is not completely sealed.
Leakage of fluid in normal operating conditions, but in situations like the one shown below, the fluid will leak. Leakage will not be able to use any other battery itself be significant, the battery fluid should be treated with extreme caution and dilute sulfuric acid is dangerous.
| | | |
| --- | --- | --- |
| Battery falling sideways | It is not made slanting, under receipts and payments of storage, or conveyance | Breakage of the case by fall, a crack |


It is about Voyager bus charger BASS CHARGER 10 here.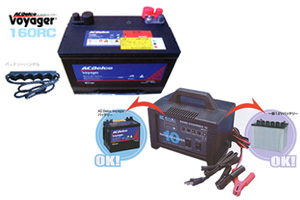 Voyager battery Voyagerr M27MF(160RC)+BASS CHARGER 10 set
Total selling price :$391(including taxes)
Set-sale price:$328(incliding taxes)