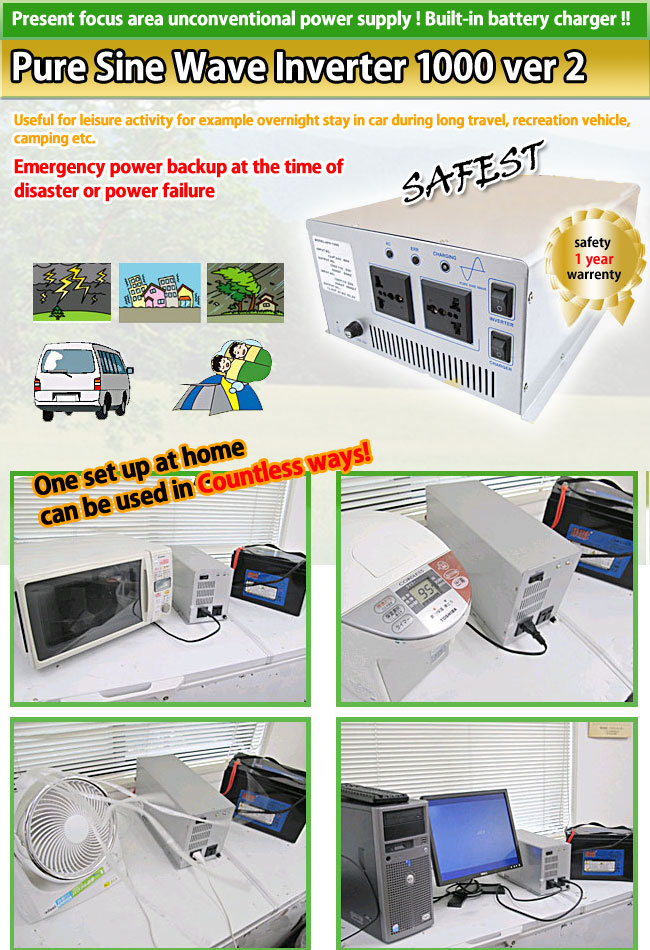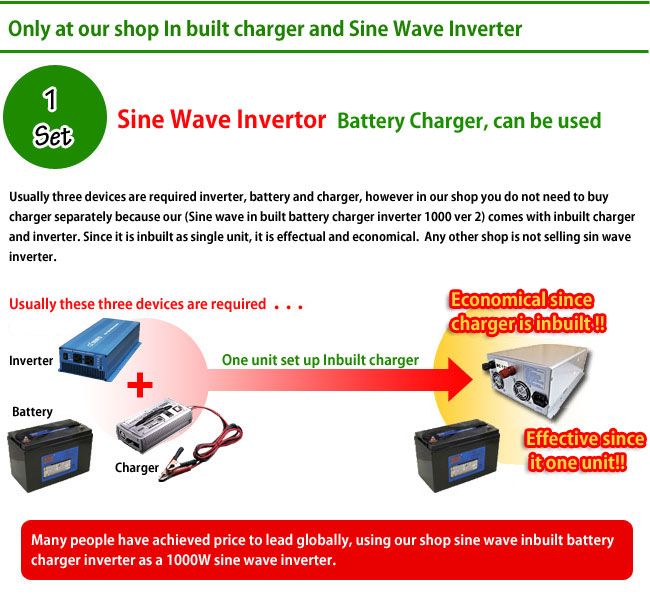 ●Specifications
Model
APS-1000
Rated output
1000W
Maximum instantaneous output
2000W
Input voltage
12V
Output voltage
AC100V
Output frequency
50Hz
Efficiency (full load)
87%以上
No-load current
Less than 8W
Charging current
10A-12A
Status
LED
Output waveform
Sine Wave
Autimatic control of cooling
Operation temperature
-10℃~+ 50℃
Storage temperature
-30℃~+ 70℃
Cooling fan
Automatic overload protection
Total harmonic distortion
5%以下
Body size
360x240x130mm
Product warranty
1 year warranty
※Please note, color, design and specifications are subject to change without prior notice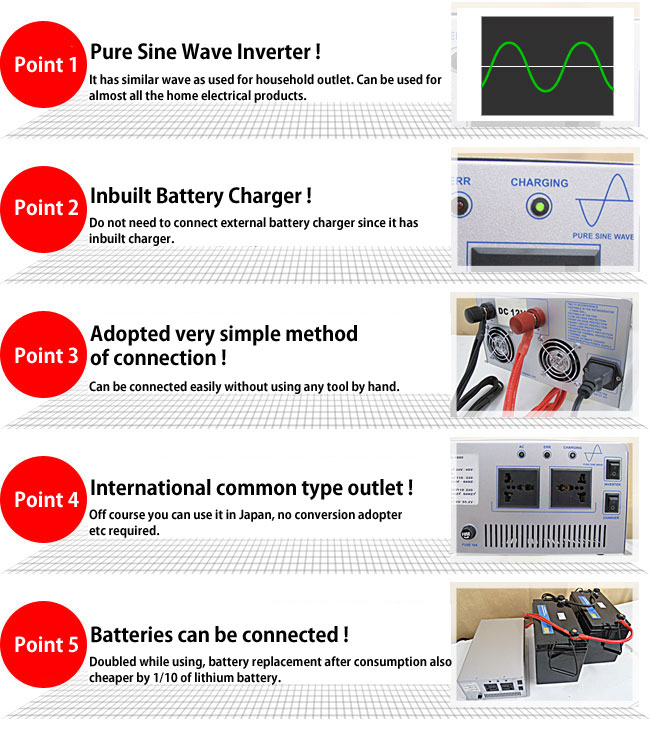 ●Office equipment used for (computers, fax machines, printers, scanners, etc.)
●Electrical appliances (fridge, game consoles, DVD, microwave, stereo, cameras, electric fans, lamps, etc.),
●Mobile phone , electric shavers, digital cameras, such as video cameras to batteries.

Sine wave battery charger inverter 1000 ver2 (Inverter)(Most suitable for camping car)

(1000W Sine wave inverter)




Price:69,800円(税込)

Selling Price:49,800円(税込)

●Specifications
Model
APS-1000
Rated output
1000W
Maximum instantaneous output
2000W
Input voltage
12V
Output voltage
AC100V
Output frequency
50Hz
Efficiency (full load)
87%以上
No-load current
Less than 8W
Charging current
10A-12A
Status
LED
Output waveform
Sine Wave
Autimatic control of cooling
Operation temperature
-10℃~+ 50℃
Storage temperature
-30℃~+ 70℃
Cooling fan
Automatic overload protection
Total harmonic distortion
5%以下
Body size
360x240x130mm
Product warranty
1 year warranty
※Please note, color, design and specifications are subject to change without prior notice

①Inverter 1000 ver2 by bank transfer to pay $468

Please send your reviews after using by e-mail to info@onlystyle.jp

※We publish your reviews on our home page once we received from you so please visit our web site and check it

※Color, design and specification sometime changes without a prior preliminary announcement. Please understand the situation